Langevin STM STS AFM:


In September 2013 the team installed the new ultrahigh vacuum low-temperature STM/STS/AFM. Located in the former laboratory of Paul Langevin at ESPCI-ParisTech, this microscope is unique in France (see the photo). The unit is equipped with a preparation chamber; the latter is devoted for in-situ sample preparation, growth and structural analysis. The microscope uses an original and nicely designed TytoTM head which combines in the same apparatus the capacities of a STM, those of an AFM and of an electron transport measurement unit; it uses the KolibriSensorTM by SPECS. The unit operates under ultrahigh vacuum P<=10-10mbar and at any temperature between 1.3K and 300K. All three kinds of experimental information can be recorded simultaneously.
| | |
| --- | --- |
| The first attempts showed that the microscope routinely reaches atomic resolution in both STM and AFM modes or even in their combinations. This allows for a much deeper insight in the structural and electronic properties (see the topographic image of an individual defect on the surface of the topological insulator BiSeFe) | |
| In Scanning Tunneling Spectroscopy (STS) mode the unit nicely resolved spectroscopic features at the expected limit of approximately 4kT. By studying the superconducting properties of a 5 nm thick film of NbN the superconducting gap of 2mV was revealed (see the screen shot) (collab. with Dr. K. Ilin, KIT Germany) | |
For any additional information please contact Prof. Dimitri Roditchev and Dr. Stéphane Pons.
To know more about STM STS: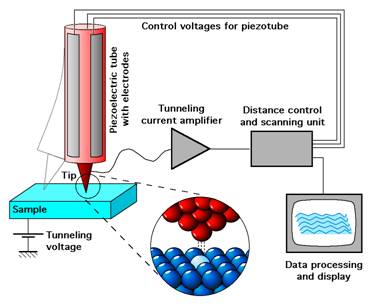 http://www.insp.jussieu.fr/Le-microscope-a-effet-tunnel-un.html (site en français)
http://en.wikipedia.org/wiki/Scanning_tunneling_microscope (in English)